ATLANTIC THREAD, PIONEER IN SEWING THREAD FOR PROTECTIVE CLOTHING, HONORED BY UL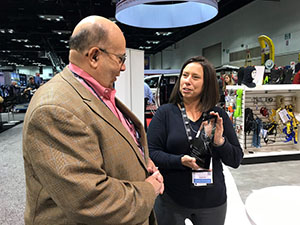 Atlantic Thread & Supply Company was honored with a 30 Year Service Award from UL in Indianapolis at the Fire Department Instructors Conference (FDIC) in April 2019. This award recognizes Atlantic Thread as being a 30 year Component Recognized partner, who was the pioneer sewing thread component supplier when UL began its engineering program as a third party certification organization for protective clothing made to meet the performance requirements of NFPA 1971, Standard on Protective Ensembles for Structural Fire Fighting and Proximity Fire Fighting.
"It was a pleasure to present Atlantic Thread with a 30 year service award at FDIC. The PPE Team has been operating as a segment within UL for 30 years and Atlantic Thread has been with us since the beginning. Together we have been passionate about making safer products for First Responder and Industrial PPE" said Kristen Trawinski, UL's Engineering Manager for Personal Protective Equipment.
Atlantic's founder and president, Vince Diaz, was on hand to accept the award. He commented, "I'm proud that Atlantic has had the chance to work and contribute to quite a few other NFPA standards which followed the first edition of NFPA 1971."
In addition to the delivery of sewing threads that are both UL Component Recognized and ISO 9001 certified, and able to meet or exceed all performance requirements for protective clothing, Atlantic Thread is unique among its peers for its continued and ongoing participation in the development of NFPA standards.
As noted in the commendation letter from Christopher Hasbrook, VP of Building and Life Safety Technologies, Atlantic's participation and sharing of its technical expertise, have contributed to the value and quality of the standards while meeting the Atlantic mission of aiding its customers to manufacture high quality textile products…while at the same time, contributing to help UL meet its mission of "Working for a Safer World."
About Atlantic Thread
Atlantic Thread & Supply Co, Inc. is an organization devoted exclusively to high performance sewing threads, yarns, and other components used in the manufacture of high heat and high strength performance textiles. For more than 30 years, Atlantic Thread has been an active member in technical organizations that develop standards and specifications for these high performance textiles and garments. These include ASTM International and the National Fire Protection Association (NFPA). For more information, visit www.atlanticthread.com.